Many of you know that I recently started as the strength coach for a pretty good football team here in Pennsylvania. The group is fantastic; they show up consistently, do what is asked by me, ask really good questions, and make great progress every week.
Last week during training, I had one of those moments, where I noticed over 90% of the athletes doing things correctly, several of whom I've never even spent face to face time with. With a group that fluctuates between 45 and 60 per day (depending on their winter/spring sports schedules) in a smaller than average facility (where we perform power cleans in the hallway), you just cannot train every athlete individually. The athletes train in groups of four, which rotates every 6-8 weeks. Upperclassmen are grouped with underclassmen, as well as novices with advanced. This is the major difference between being a strength coach and a personal trainer-a true strength coach has to be extremely resourceful in handling a large group of athletes often in environments that are less than optimal.
One of the bigger challenges with regard to this is achieving technical excellence throughout the group in our most important lifts. Since beginning over six weeks ago, I have been hammering home the message of proper technique first, then loading the barbell appropriately, as long as proper technique is maintained. The squat is the keystone lift that can show just about any bystander if your kids are indeed doing things correctly. If you squat well, obviously you have great hip mobility and strength, a stable and powerful torso, and the ability to make great gains in overall muscle size and strength. I think watching your athletes squat shows both you and the outside world two things.
1) You have a reasonable grasp of how to coach movement correctly.
2) Your athletes actually listen to you and buy into what you are saying.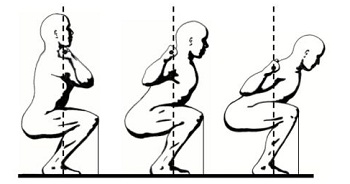 A good squat is like a good golf swing– the movement remains consistent over time, with the "number on the iron" the only variable for both
What I saw during one of our sessions last week really cemented the point that my kids had bought into what I had been preaching. I saw a 90% compliance rate with proper squatting technique among all the athletes there that Friday. Proper bar position, elbows "up", a tight arch/lordships and awesome depth across the board. Many of these athletes I had never coached "one on one"; again with such large numbers, it just isn't always going to happen. However, what they did do was:
1) Listen to me with full attention when I did group instruction on the finer points of squatting.
2) Model technique from other athletes who had squatted correctly within their groups.
3) Take feedback from others in their group.
4) Give feedback to others-even if they are a much stronger and larger upperclassman.
3) Continue to strive for technical excellence throughout.
I was really blown away-my goal for these kids was 90% compliance by the end of April, and we had achieved it at the end of February! Overall, I give the group a grade of A- at this point on this lift.
Below are two of my athletes who did a really nice job squatting-one a beginner, and one a bit more advanced:
Example 1: A High School Freshman New to Squatting
This athlete never squatted before we began training in late January. He weighs about 140 lb. Here is is using 225 lb. for a double:
Yes, it's not the most weight in the world, but keep in mind he hasn't really done this before January. Everything is being done correctly-elbows up, tight arch, knees out and great depth. You can't ask for more-a kid who attends regularly, pays attention to detail and gets it done. The crazy thing here is that I had never spent direct time with this athlete before I filmed this! He listened to my instructions to the whole group as well as my cues to other athletes, worked hard with the athletes in his group (spotting, cueing, and lifting while receiving feedback from his group), as well as observing others doing it right. My job just got much easier as a result!
As I said before, most of of our kids are now squatting with good mechanics, so modeling of appropriate technique is easy-just look to the racks on your left and right and you will more than likely see someone else doing things right.
Example 2: A Sophomore With Some Prior "Under the Bar" Experience
Here is a sophomore athlete who had squatted before, and as you can see has some pretty good potential for moving some serious weight. I did spend time with him coaching trunk stability, as this was not great a few weeks ago, as well as his ability to "sit back". Here is the result:
Great depth, good arch maintenance and a nice "pop" at the top. Again, this type of form and power comes from listening to instruction, buying into philosophy (good form vs. just more weight), taking feedback from his group, they applying effort.
There are obviously many more success stories in the Wood weight room, but I think you get the idea from what is seen here.
Wrapping Up
Successful large group coaching comes down to a few key factors including listening, modeling, feedback and (obviously) hard work. Once these are implemented, programming becomes that much easier to implement, gains are made, and coaches (as well as athletes) are happier. The squat is an "acid test" lift where things just can't be faked; if your athletes can squat, then I bet everything else is probably just fine in your overall program as well as with your coaching.